07. 08.



Indiánské děti mají velkou svobodu. Nikdo je k ničemu nenutí a nejsou nijak kárané. Je škoda, že dnešní mládež ovlivňuje stejný duch neposlušnosti, stejně jako jejich rodiče. Ale i tak je stále ještě mnoho dětí, které jsou slušné, poslouchají rodiče a jsou zdvořilé k cizincům. Indiáni se k dětem nikdy nechovají hrubě, a tělesně je netrestají. Věří, že takové jednání by se jim ve stáří vrátilo. Jenže některé dnešní ženy jsou podrážděné a po dětech křičí a lijí na ně za trest studenou vodou, nebo je do říční vody hodí.

Muž se zřídkakdy žení s více než jednou ženou, aby neměl doma potíže s hašteřivými manželkami. Nikdy se také nežení v rámci vlastního rodu, a v tom jsou daleko přísnější než Evropané. Indiánské kmeny jsou rozděleny do totemů (rodů), proto si muž může být jistý, že si nevezme nikoho z příbuzenstva. Je neslýchané, že by si muž vzal za manželky, matku s dcerou.

Rodiny mají většinou čtyři až šest dětí a narození dvojčat je velmi vzácné. O děti, kterým při porodu zemře matka, se postará některá z příbuzných nebo starých žen a je o ně dobře postaráno. Stejně tak dobře postaráno je také o úplné sirotky. Malé děti se krmí polévkou z najemno rozemleté kukuřice.

O chod domácnosti se stará žena a muž se jí do toho neplete. Paní domu vaří dvakrát denně, ale když z nějakých důvodů jídlo nepřipraví, manžel jí to nevyčítá. Odejde k někomu z přátel, a tam se nají. Indiáni mají takový zvyk, že když do jejich wigvamu někdo vstoupí, první věc, kterou udělají je, že mu nabídnou jídlo. Pokud tedy doma nějaké mají. Muž se o rodinný oheň nestará, vyjma toho, že má hosty. Válečník může v lese připravit dřevo, ale domů ho nosí ženy. Starat se o domácí oheň je výsadou žen.

Muž vychází na lov brzy ráno a vrací se někdy až pozdě večer. Během celé té doby nic nejí. Když přijde domů, úlovek složí přede dveřmi a beze slova vchází do wigvamu. Manželka mu dá najíst, postará se o jeho šaty, a pak teprve zpracuje zvěřinu. S ní si může dělat, co se jí zlíbí a manžel se o to nestará, i kdyby třeba všechno maso rozdala. V případě, že jde manžel na delší loveckou výpravu, nebo obchodní cestu, zjeví to manželce a ona mu připraví zásoby a ostatní potřebné věci.

Jak už se to stává, také indiánští manželé se občas pohádají. V takovém případě si manžel vezme pušku a odejde do lesa a zůstane v něm i několik dní. Když se zase vrátí, je vše zapomenuto a v rodině je opět klid.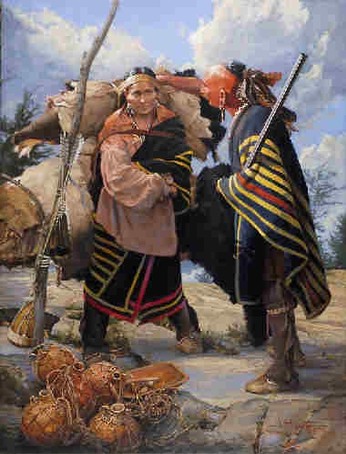 Mladí lidé si dnes nebývají moc věrní. Po nějaký čas spolu žijí, jak se říká na hromádce, a když je to omrzí, zkoušejí to zase s někým jiným. Když jsou starší a rozumnější, většinou se uklidní a usadí se natrvalo. Muži se žení mezi osmnáctým a dvacátým rokem svého věku a dívky mezi čtrnáctým a patnáctým rokem. Ne každý válečník snáší rozmary své manželky z benevolencí. Někteří muži jsou z nevěry ženy tak nešťastní, že se v zoufalství otráví jedovatým kořenem. Také ženy páchají sebevraždy kvůli nevěrnosti manžela.

Aby se takovým tragediím dalo zabránit, používají indiáni medicínu lásky, kterou připravují staří lidé a docela draze jí prodávají. Indiáni věří, že tento besort jim věrnost manželského partnera zajistí. Medicína má prý takovou moc, že dokáže dokonce zabít toho, kdo by se z manželů nevěry dopustil. Aby měl besort, co největší sílu, nosí zájemci starým lidem mnoho dárku, aby ho udělali co nejmocnější. Podobné medicíny mohou zajistit domácnosti dostatek jídla, šatů a jiných potřebných věcí. Proto indiáni své besortystřeží nadmíru žárlivě. Medicíny se připravují s rozdrcených bylin a kořenů, které se míchají se zaklínáním a zpěvy.Besort o velikosti hrachu se prodává za wampumový pás nebo několik liber v penězích. Medicínu lásky většinou dělají staré ženy, které tím jen podporují pověry mezi mladými. Muži potřebují besort pro úspěšný lov. Ten připravují staří muži z kořenů a bylin jisté rostliny. I táto medicína je dost drahá a staří lidé si tak mohou docela dobře vydělat. Po medicínách, které se prokázaly jako úspěšné, je velká poptávka a indiáni jsou za ně ochotní platit celým jměním.



Jeden druh medicíny, kterou indiáni berou na lov, se žvýká. Lovec se tak může k jelenovi přiblížit po větru a zvíře ho nezvětří. Jiná medicína, která se užívá vnitřně, vyvolána zvracení, ale běžně se nepoužívá. Aby byly medicíny úspěšné, vykoná se před každým jejich použitím malý obřad, který musí být proveden s maximální přesností. Indián, který je na lovu několik dní a nic se mu nepodaří skolit, užije několikbesortů a do večera zastřelí pár jelenů. Viděl jsem ovšem, že někteří indiáni nestřeli nic ani po třech dnech. V tomto případě se vymlouvali na to, že jsem moc medicíny oslabil já coby misionář. Tak to dělali vždycky, když se jim něco nedařilo, zkrátka to svedli na mně. Moje přítomnost rušila moc jejich magických zaklínání.

V souvislosti s lovem kladou indiáni velký význam na sny, ve kterých se jim třeba vyjeví nějaké zvíře, či bytost, která lovci zajistí úspěch, bude ji li onen obětovat. Indián pak domu přinese jelena nebo dva a uspořádá hostinu, která bude zároveň také obětním darem. Na hostinu pozve zvláště letité lidi, kteří se za něj budou modlit.

Delawarové používají dalekonosné a přesné ručnice, kterým se říká rifle, a oni s nimi umí obratně zacházet. Delawarové se je naučili opravovat a mnozí si je šikovně umělecky vyšperkovali. Takovým věcem indiáni věnují mnoho času a úsilí a na své dílo jsou patřičně hrdi, i když se jim třeba moc nepovede. Mezi vnitrozemskými národy jsou tyto pušky vzácné. Tamní indiáni používají starodávné muškety, které jsou většinou v bídném stavu. Výjimkou jsou Šavani, kteří jsou dobře vyzbrojeni a o ručnice se pečlivě starají.



Bezdětný manželský pár se rozchází s pocitem, že za to může ten druhý. Mezi indiánkami jsou skutečně ženy, které jsou neplodné. Taková žena se po několika neúspěšných manželstvích usadí u nějakého vdovce s dětmi. Stává se, že i muži bývají neplodní, ale každopádně je to u obou pohlaví výjimečný jev.

Proklínání a nadávky indiáni neznají, a proto ani v jejich jazyce neexistují sprostá slova. Pokud se stane, že si lidé jak se říká, vjedou do vlasů, zřídka se to stává mezi muži, možná jen mezi těmi mladšími. Častější jev je to mezi ženami. V tom případě se používají slova, která by v naší společnosti asi nikoho neurazila, ale indiáni je berou vážně. Když hádka dojde do extrému, dojde i na nějaké oplzlé výrazy převzaté od bílých.

Malé děti jsou nošeny na zádech, a to někdy až do pěti let. Kdysi se miminka dávaly do nosítek, které nosily ženy zavěšeny přes čelo. Když měly ženy práci, zavěsily nosítka na strom nebo trám ve wigvamu. Někdy se stalo, že neposedné dítě se v nosítkách příliš vrtělo a kopalo, až nakonec spadlo na zem nebo dokonce do ohniště. Dnes už se tato nosítka nepoužívají.

Indiánské wigvamy jsou docela čisté a v některých případech pohodlnější, než evropské sruby. Když indián očekává hosta a zvláště jestli je to běloch, učiní vše pro jeho pohodlí. Zamete kavalec, který přes den slouží jako sedátko a hodí přes něj několik jeleních nebo medvědích kůží. Je to pohodlné spaní, ale přes zimu člověka někdy trápí blechy, které do wigvamu zanesou psi.

Horší je to s kotlíky, nádobím a příborem, o které se indiáni nestarají a nemyjí. Někdy nechají nádobí dokonce olízat psy. Nádobí a lžíce si indiáni vyřezávají ze dřeva a umí to vskutku pěkně. Lžíce jsou všeobecně velké a kulaté. Jednu lžíci může při jídle používat i několik lidí. Mosazné kotle se indiánům výborně hodí na vaření cukru.

Válečníci jsou milovníci parády a velcí fintilové. Na ozdoby si potrpí daleko více, než ženy. Indiáni mají zalíbení v barvách a špercích. Oblíbili si zvláště barevné látky a přikrývky Evropanů. Mnoho žen nosí bílou košili, ozdobenou stříbrnými sponami a čím víc jich je, tím lépe. Červené a modré kamaše šijí z látky, které olemují korálkovou a hedvábnou výšivkou. Výzdobě mokasínů se věnuje nemalá pozornost. Přes ramena nosí indiáni pokrývky, a kdysi to bývali kožené a pestře pomalované pláště. Móda indiánů je pokud mohu říci vkusná a pěkná. Košile indiáni neperou a nosí je tak dlouho, dokud se neroztrhají. Některé ženy se praní už věnují.



Muži i ženy si malují tváře denně, zvláště když se toho večera bude konat slavnost a tančení. Muži si pomalují červenou rumělkou celou hlavu, a tu a tam volí černo červenou kombinaci a celé to doplní ornamenty dle vlastního vkusu. Ženy se malují jednotně. Dělají si na tváře, čela, oční víčka a uši červené tečky. Starší ženy se malují jen zřídka.

Staré ženy nosí většinou jen obnošené věci. I když jim manžel věnuje šaty nové, vymění je s dcerou, nebo nějakou mladší příbuznou za obnošené. Takový je mezi indiánkami zvyk.

Indiáni staví vesnice poblíž jezer a potoku, ale v dostatečné vzdálenosti, aby stačili uniknout, kdyby se na jaře toky rozvodnily. Domy nejsou uspořádaný podle žádného plánu, a každý si staví dům tam, kde se mu zachce, ale nikdy je nestaví blízko sebe. Když před několika lety stavěli Delawarové vesnici Gochachgiink, chtěli jí udělat podle vzoru osad křesťanských indiánů, ale moc se jim to nepovedlo.

Když stojí vesnice dlouho na jednom místě, dojde časem v širém okolí palivové dříví. V tom případě se indiáni stěhují na nové místo. Ačkoli v dnešní době už mají k dispozici koně, málo na nich jezdí.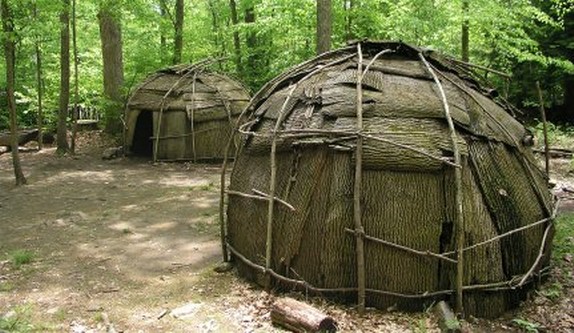 Dědictví v právním ohledu je pro indiány pojem neznámy. Po zemřelém válečníkovi si rozeberou majetek jeho přátele, ale tím to nekončí. Přátelé nechtějí, aby jim tyto předměty připomínaly mrtvého, tak je raději darují dalším lidem a sami si nic nenechají, i kdyby po tom hodně toužili. Výjimku tvoří zbraně, nebo jiný majetek, který zesnulý výslovně někomu odkázal. V takovém případě nikdo nediskutuje o jeho právu na vlastnictví. Vdova si po manželovi nenechává nic, krom věcí, které jí daroval, plus věci, které jsou v jejím vlastnictví, jako je wigvam, jeho vybavení a pole. Stejné je to i v případě, kdy zemře manželka, manžel po ní nic nedědí.

Podle dávného zvyku držela vdova roční smutek, než se mohla znovu provdat. Indiáni totiž věří, že to duši trvá celý rok, než se dostane do říše mrtvých. Během období smutku nesmí vdova jíst žádné maso. Indiáni totiž věří tomu, že kdyby snědla zvěřinu, selhaly by jejich zbraně. Občas se najde nějaký dobrý člověk, který pravidlo poruší a tajně ženě donese maso. Jakmile rok smutku uplyne, přátelé zesnulého manžela navštíví vdovu, věnují jí šaty a zabezpečí jí i její děti. Také jí oznámí, že je volná pro sňatek a navrhnou, kdo by to mohl být jejím budoucím manželem. Kdyby se náhodou provdala ještě v období smutku, nikdo to moc neřeší, maximálně jí budou lidé pomlouvat. Vdovec si bere za manželku svou švagrovou, pokud to jde.



Před tím, než indiáni měli sekery, pohřbívali mrtvé do hrobu vyplněného kůrou. Nad tělo umístili dřevěné překlady, které pokryli kůrou a celý hrob zasypali zeminou. Když se indiáni naučili vyrábět prkna, rozmísti je v hrobě na dno a podél stěn a mezi ně umístí nebožtíka. Čtvrté prkno slouží jako víko. Dnes už umí indiáni vyrábět pořádné rakve.

Podle starého zvyku vykope hrob stará žena, protože mladí si tento druh práce oškliví. Rakev vyrobí muži, a také jí vkládají do hrobu. Nakonec je přinesen nebožtík, který je oblečen do nové bílé košile a má pomalovanou tvář. Tělo je přineseno na rohoži, se kterou je vloženo do hrobu. Dříve se mrtvému do hrobu dával medicínový váček, tabák, kalumet, nůž, munice, kotlík a sekera, ale dnes se od toho upustilo. Hroby jsou situovány tak, aby hlava směřovala směrem na východ. V hlavách hrobu je navršena mohyla se značkou, aby se vědělo, kdo v hrobě leží. Pokud byl zesnulý sačem, je náhrobek pečlivě vyřezaný a ozdobený. V případě, že to byl válečný náčelník, bude náhrobek červený a s kresbami jeho slavných činů. Na náhrobek šamana je pověšen želví krunýř, který používal ve své kouzelnické praxi.



Pohřeb se koná tak, že večer, hned po západu slunce se přátelé a plačky sešli ve wigvamu zemřelého, aby za něj truchlili. Tryzna trvá tak dlouho, dokud není tělo pohřbeno. Veškerý majetek zesnulého je položen blízko těla a je posléze odnesen k hrobu, kde je rozdán. Během pokládaní těla do hrobu, ženy naříkají ohlušujícím způsobem. Muži plakat nesmí, protože to je společenský nepřípustné, ale pokud je nikdo nevidí, propukají ze žalu v pláč. Pohřební obřad ukončí matka, babička, či jiná blízká příbuzná. Ráno přichází k hrobu, kde pláče, a tak to dělá po několik dní. Někdy jsou k hrobu přinášeny potraviny, aby mrtvý netrpěl hladem, ale toto jídlo většinou spořádají psi.

Nantikokové mají takový zvyk, že po třech měsících od pohřbu vyzvednou z hrobu kosti zesnulého, očistí je od zbytků tkáně, usuší, zabalí do nové látky a vloží je zpět do hrobu. Při této příležitosti pořádají hostinu.

Indiáni jsou svobodomyslní lidé, a tudíž si nevytvořili žádné zákony. Pokud je někdo do něčeho nutí násilím, příčí se tomu. Když je nepřesvědčíte normální žádosti, každé další úsilí je zbytečné. Bydlí tam, kde se jim zachce, a když se jim tam nelíbí, zkrátka se přestěhují do jiné vesnice, nebo na osamělé místo. Málokdy se však stává, že by se rodina usadila daleko od společnosti. Někteří vyhledávají samotu proto, aby se vyhnuli opilcům z vesnic.

Obchod s alkoholem je výnosná činnost, kterou se zabývají zvláště ženy, které kupují kořalku od bílých obchodníků a indiánům jí výhodně prodávají. Závislí opilci dali za alkohol celý svůj majetek, včetně pušky, která je dnes pro indiána de facto životně důležitá. Sačemové a moudří muži chtěli pití a prodej alkoholu ve vesnicích zakázat, ale takové omezení měly jen krátkou životnost. Od té doby, co indiáni tak moc pijí alkohol, rozmohly se mezi nimi násilí a vraždy. Vražda spáchaná v opilosti se netrestá, ale určitě plodí nenávist a odvetné akce, které se šíří řetězovou reakcí. Mstitel pak při vhodné příležitosti předstírá opilost a snaží se zabít toho, kdo ublížil jeho příbuznému nebo příteli. Podle starobylého zvyku se vražda trestala pokutou sto sáhů wampumů za muže a dvě stě za ženu. Pokud je viník příliš chudý, pomohou mu trest zaplatit přátelé, aby ho ochránili před krevní mstou. Jestli někdo zavraždil vlastního příbuzného, musí prchnout, protože za takový skutek neexistuje pokuta, jenom trest smrti.

Krádež se netrestá a pro zloděje to není ani hanba, že něco takového spáchal, ale pokud je odhalen, musí ukradené věci vrátit, nebo za to zboží dá adekvátní náhradu. Jestli to není v jeho moci, opět mohou pomoci přátelé